Our tutor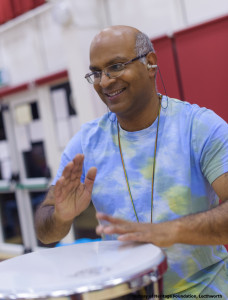 Ravin 'Raz' Jayasuriya is a a professional percussionist and tutor who has specialised in Brazilian and Cuban percussion for over 20 years. He has made several research / study trips to Cuba and Brazil and has worked with many UK & internationally acclaimed artists.
In 1996, he founded One Voice Music, an organisation that is now recognised as one of UK's main providers of education & training in Brazilian & Cuban percussion. OVM runs a variety of residential,  modular courses & weekend workshops throughout the country.

In 2006 he won a UK National Training Award. The NTA is the UK's premier accolade for training and development and recognises his own personal learning journey in percussion and the impact this has had on his own life and on individuals and organisations through the tuition he offers.