Let's Create Jubilee – Arts Council England project
In 2022 Her Majesty The Queen will become the first British monarch to celebrate a Platinum Jubilee after 70 years of service. Garden City Samba band has successfully bid for some Arts Council England funding which was distributed through the Hertfordshire Community Foundation, to celebrate this.
Ravin (Raz) Jayasuriya, a nationally-renowned and experienced percussionist, composer and educator, will be working with Garden City Samba to create a brand new and innovative samba drumming and percussion piece, called Queen's Samba, that will become part of GCS's future repertoire. Key to the production is the participation of key local community groups which include Garden City Samba members, children and teachers at Garden City Academy, children and families from Acorns, students from John Henry Newman school and other local organisations.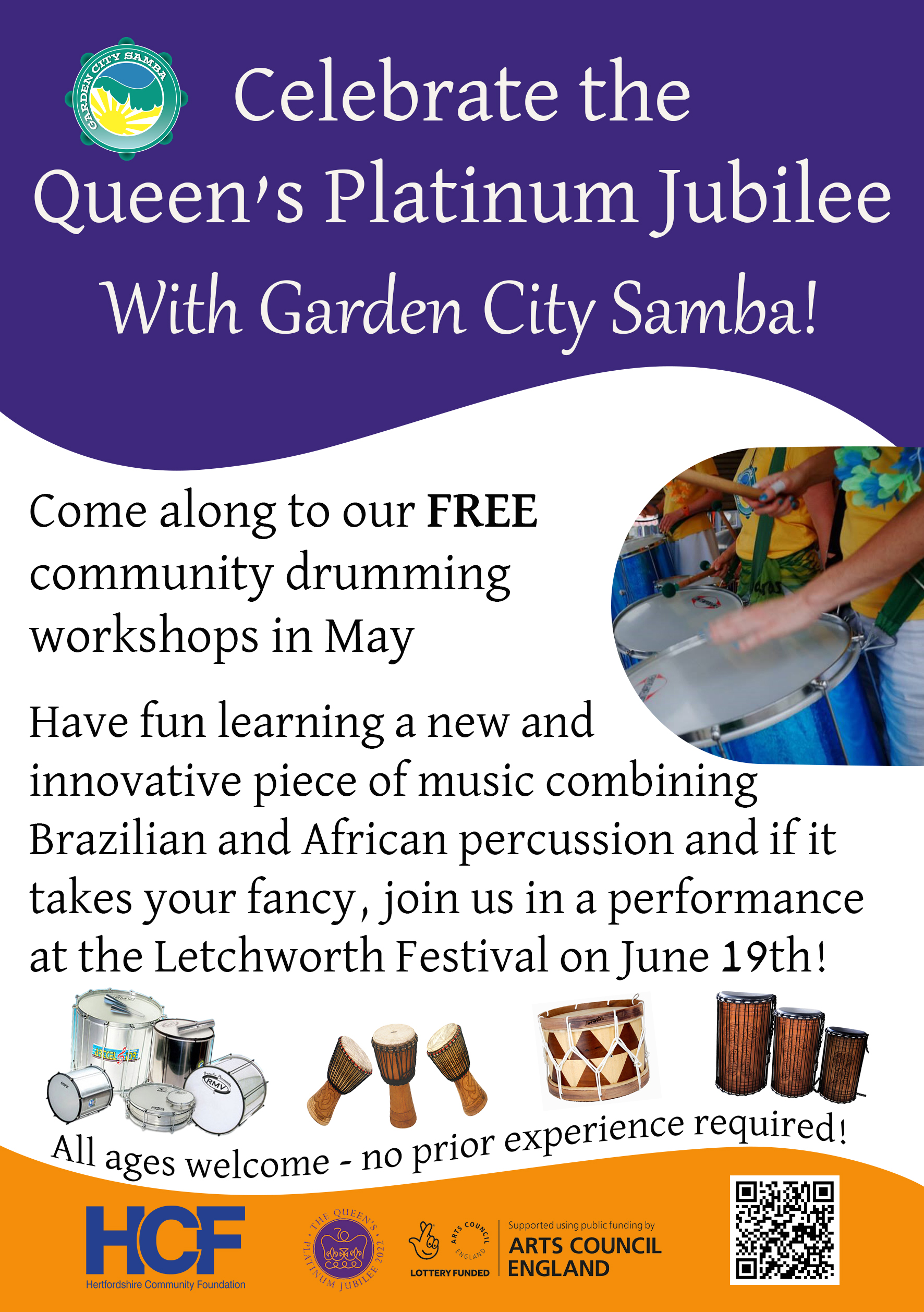 The Samba piece will be developed through a series of workshops, rehearsals and finally performances in June during which the participant experience is important. During this period of development, rhythms and ideas from samba will be drawn together with drumming patterns from some of the Commonwealth countries to form a new and innovative hybrid piece of music.
The project is intended to draw in participants to new experiences, participating directly in making and performing in a band. This involves finding out something of different cultures and their use of music, learning new skills and having fun doing it. Playing music has been identified as contributing to health and well-being.

Some of the key aims of the project are:
To create a unique piece of music that will bring together new ideas from the artist and content derived from participants experiences;
To support a fun, celebratory and exhilarating musical experience for all involved in a way that is open to everyone, regardless of musical experience, age, social or economic background;
To find and support new band members;
To support the strategic goals of our partners through the project and form a new network of people interested in this activity.
We hope also continue to perform the Queen's Samba in years to come.
We thank the groups we are working with for their support and enthusiasm, including Jackmans Community Trust.

Performance
Sunday 19th June at 3 pm
Venue
Howard Park, Letchworth Garden City