We are a community samba percussion & dance group in Hertfordshire that specialises in Brazilian Carnival Rhythms.

We're based in Letchworth Garden City and since January 2011, we've been been running weekly classes from 7 to 9 pm at a local venue.
We provide skills training and development opportunities in Brazilian carnival percussion/music & dance, which is accessible to everybody regardless of their age, cultural background, economic circumstances or prior music experience.
We currently have an age range from 12 to 88 years old, including some families, most of whom had no musical background before joining.
We create a friendly and supportive learning environment where people can discover new skills, be part of a music & dance ensemble, increase their self-confidence and make new friends.
We aim to foster a sense of community pride through regular performances at local events and to promote Letchworth when performing outside the local area.
Mission Statement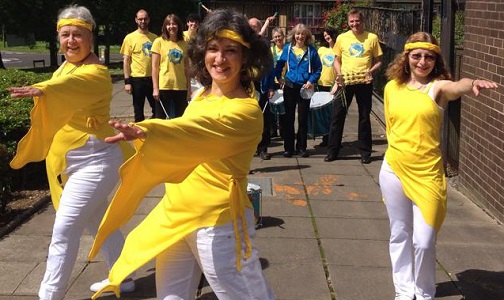 – to be an inclusive group, attracting people of all ages, from all walks of life and from different cultural and economic backgrounds.
– to provide training in Brazilian percussion & dance for all levels of ability and to inform members of Brazilian culture.
– to create a safe, supportive and enjoyable learning environment where members can develop their technical, music, dance and performance skills.
– to ensure that being a member of Garden City Samba is beneficial in increasing confidence and personal development.
– to enhance a feeling of community pride in the Garden City by performing at local events and representing our town further afield.

Thanks to our funders
North Herts District Council ~ Letchworth Garden City Heritage Foundation ~ Hertfordshire County Council ~ Hertfordshire Community Fund ~ Comic Relief