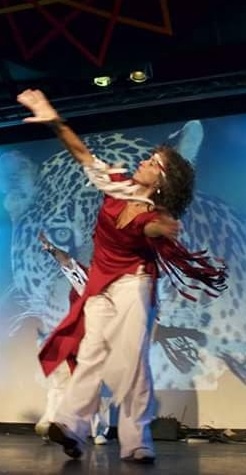 Garden City Samba is running 3 dance classes that you can attend for FREE, at the end of which, you have the option to perform with us at the Letchworth Christmas Lights switch-on parade on Sat 26th Nov 2022.
ALL abilities, body shapes & fitness levels are WELCOME!
Immerse yourself in the richness of Brazilian dance & rhythm exploring the roots of Samba (traditional Afro-Brazilian dances), contemporary Samba & Samba Reggae.
Energise and have fun while improving your fitness, strength and flexibility under expert supervision of Brazilian teacher, Marcia Magliari, from Rio de Janeiro. The choreographies will reveal stories of Brazilian folklore, merging authentic moves and modern techniques.
Please wear dance shoes or light trainers.

LIMITED PLACES – BOOK HERE
Booking deadline is Sun 6th Nov
DATES OF CLASSES
Sunday 13th Nov, 1.30-4.30 pm
Tuesday 15th Nov – 7-9 pm
Tuesday 22nd Nov – 7-9 pm
VENUE
Jackmans Community Centre, Ivel Ct, Letchworth Garden City SG6 2NL

LETCHWORTH CHRISTMAS LIGHTS SWITCH-ON PERFORMANCE *
(In order to perform with us, you must attend all 3 dance classes)

Date
Saturday 26th Nov

Times
(early evening, exact time & details TBC)

Location
Letchworth City Centre

Costumes will be provided


* Even if you don't wish to perform with us on this occasion, if you are interested, these classes will enable you to join Garden City Samba's dance group, with opportunities in the future to perform with live drumming.