News
NEW – SAMBA DRUMMING COURSE FOR BEGINNERS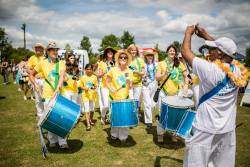 Sign-up for Garden City Samba's all-age, all-ability beginners course in Brazilian carnival percussion!
ONLY £18 FOR THE WHOLE 6-WEEK BLOCK
Garden City Samba run a 6-week beginners course every Sept in order to give people a chance to learn some Brazilian carnival samba drumming. No prior drumming or music experience necessary.
Classes run on Tuesday evenings from 7 to 8 pm at St Francis College, Letchworth SG6 3PJ. Our next course begins on 11th Sept 2018.
During the course, participants will learn some authentic samba patterns on a variety of percussion instruments and gain an understanding of Brazilian carnival and its music.
We will work on individual instruments as well as creating structured pieces of carnival music combining all instruments.
At the end of the 6 weeks, participants will be invited to join the existing established group and continue coming to our Tuesday evening classes.
So if you like drumming, or have always wanted to give it a try, why not come along and have a go? This is a great chance to do something new, learn new skills and make new friends.
Please contact-us if you'd like to enroll or require further information.
Image credit: Rafe Abrook photography